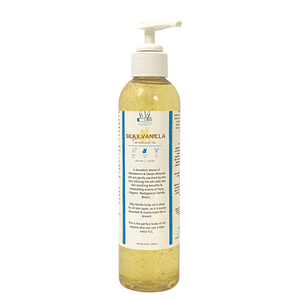 Silky Vanilla Body Oil
Regular price $ 0.00 $ 22.00 Sale
Sexy, Hydrating & Fragrant.
Silky Vanilla is a luxe blend of Macadamia Nut & Sweet Almond Oils that have been infused with Organic, Madagascar Vanilla beans for a minimum of 2 months using the 'Sun Method' . 


Our quality oils are gently warmed and mixed in a glass jar with ample Organic, Madagascar, Vanilla beans &  pods.
This mixture is then set in the window of our product room where it is gently heated by the Sun, infusing the oils with the soothing skin benefits & aroma of pure, Organic, Vanilla. 


This body oil carries the natural aroma of warm Vanilla bean, and we top it with a splash of pure Vanilla Essential oil for a double dose of sweet, creamy Vanilla.
 
It is easily absorbed and moisturizes like a dream.
 
This listing is for one 8oz bottle of Silky Vanilla Body Oil.
*Silky Vanilla body oil is only transferred to a PET plastic bottle once an order is filled. 
~~~~~~~~~~~~~~~~~~~~~~~~~~~~~~~~~~~~~~~~~~~
INGREDIENTS HIGHLIGHT &  BENEFITS:


-Macadamia Nut Oil:  A beautifully exotic oil with a light, nutty scent -  Macadamia nut oil is non-greasy, easily absorbed and this higher quality oils leave a noticeably silky soft feel to the skin. It's the perfect moisturizer for dry skin that has difficulty holding moisture.



COMPLETE LIST of INGREDIENTS:
Organic Madagascar Vanilla Bean-infused Macadamia Nut Oil, Sweet Almond Oil, Vanilla essential Oil, (traces of) Organic Vanilla beans. 
~~~~~~~~~~~~~~~~~~~~~~~~~~~~~~~~~~~~~
 
                    ****IMPORTANT- PLEASE READ:****


* NOTE: The addition of essential oils are NOT recommended for children under 2yrs. old. 


The only essential oils that we recommend for children older than 2yrs. are: 
-Lavender
-Chamomile
-Vanilla


Though our products are created with quality, skin loving ingredients, it's a fact that everyone's skin is unique and different. What works great for one person may not for another.
Therefore, we recommend doing a 'patch test' on a small portion of skin before applying product all over to ensure that it will not irritate the child's skin. 


AJA Naturals will not be responsible for allergic reactions and/or irritations. 
~~~~~~~~~~~~~~~~~~~~~~~~~~~~~~~~~~~~~~~~~~~~~
The Power of Vanilla:


Vanilla is a natural:


+Antioxidant & Anticarcinogenic- The antioxidant property of vanilla essential oil neutralizes free radicals and protects the body from wear and tear, infections and even some forms of cancer. It also repairs the damage already done to the body and stimulates repair.


+Aphrodisiac- A systematic administration of vanilla essential oil to patients suffering from impotence can relieve them of their problems. This oil stimulates the secretion of certain hormones like testosterone and estrogen which help bring about normal sexual behavior and promotes sexual arousal.


+Antidepressant & Relaxing-This is one of the biggest advantages of vanilla's powerful aroma. It is far more effective if it comes from real vanilla,as it does in this mixture. Vanilla is an effective antidepressant and mood lifter.
~~~~~~~~~~~~~~~~~~~~~~~~~~~~~~~~~~~~~~~~~~~


Eco-Friendly:

The clear, PET plastic (with recycling symbol 1) has been deemed safe for use with food, beverage & personal care products by U.S.D.A, Health Canada & the European Food Safety Authority. 


This bottle is: 


-BPA Free
-Phthalates Free
-Does Not contain endocrine disruptors


PET bottles are also highly recyclable & sustainable. They can easily be recycled into new beverage or personal care containers and even clothing. With about 1.5 billion pounds of used PET bottles recycled each year, PET is the most recycled plastic in the U.S.