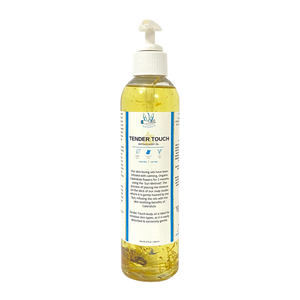 Tender Touch Body Oil
Regular price $ 25.00 Sale
Simple & Effective. 

Tender Touch Body Oil is created with soothing Calendula-infused Avocado & Sunflower seed Oils. 

Containing the light & natural scent of Calendula, this body oil is easily absorbed and moisturizes like a dream.
It is the perfect body oil for baby or anyone with dry, sensitive skin. 

Our Tender Touch Body Oil has been infused with calming Calendula flowers for 2 months using the 'Sun Method'. 
Our quality oils are gently warmed and mixed into a glass jar with ample Calendula flowers.
This mixture is then set in the window of our product room where it is gently heated by the Sun, infusing the oils with the soothing skin benefits of Calendula. 


This listing is for a one 8oz bottle of Tender Touch Body Oil.
*Tender Touch body oil is only transferred to a PET plastic bottle once an order is received. 

~~~~~~~~~~~~~~~~~~~~~~~~~~~~~~~~~~~~~~~~

INGREDIENTS & BENEFITS:

-Calendula:  Boasts many skin benefits like it's ability to brighten skin, keep blemishes at bay while minimizing scarring and stimulates the production of collagen.  

-Avocado Oil:  Is one of the most penetrative of all natural plant oils. Unlike most moisturizers and many other natural oils, it is believed to penetrate through the epidermis and into the dermis layer of our skin. Due to its humectant properties that prevent drying out, this moisturizing effect is long-lasting.


COMPLETE LIST of INGREDIENTS: 

Calendula-infused Avocado & Sunflower seed Oils, Calendula flowers. 
+Essential oil(s) added per customization. 


*CAUTION: Persons with allergies to the Asteraceae plant family should NOT use this product. 
~~~~~~~~~~~~~~~~~~~~~~~~~~~~~~~~~~

                    ****IMPORTANT- PLEASE READ:****

* NOTE: The addition of essential oils are NOT recommended for children under 2yrs. old. 

The only essential oils that we recommend for children ages 2-12 are: 
-Lavender
-Chamomile
-Vanilla

Though our products are created with quality, skin loving ingredients it's a fact that everyone's skin is unique and different. What works great for one person may not for another. Therefore, we recommend doing a 'patch test' on a small portion of skin before applying product all over, to ensure that it will not irritate the child's skin. 

AJA Naturals will not be responsible for allergic reactions and/or irritations. 

~~~~~~~~~~~~~~~~~~~~~~~~~~~~~~~~~~~~~~~

Skin Benefiting Facts:

Calendula is a skin-loving herb that is known as a gentle, emollient that soothes & heals dry skin. It's also an effective healer of wounds, sunburn & bruises.

Avocado oil is mild, nourishing, semi-fatty oil, rich in vitamins A, B and D. It is ideal for relieving itchy, dry and sensitive skin.

~~~~~~~~~~~~~~~~~~~~~~~~~~~~~~~~~~~~~~~~~

ECO-FRIENDLY & SAFE

The clear, PET plastic (with recycling symbol 1) has been deemed safe for use with food, beverage & personal care products by U.S.D.A, Health Canada & the European Food Safety Authority. 

This bottle is: 
-BPA Free
-Phthalates Free
-Does Not contain endocrine disruptors

PET bottles are also highly recyclable & sustainable. They can easily be recycled into new beverage or personal care containers and even clothing. With about 1.5 billion pounds of used PET bottles recycled each year, PET is the most recycled plastic in the U.S.